At Acme Fence Company we have the largest standing inventory of chain link and guardrail within the State of Alaska.
We employ a knowledgeable staff, that provide one on one customer service, and reasonable solutions to problems that are faced doing various installations within the challenging environment that Alaska provides.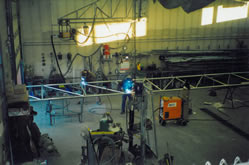 Our staff will figure out every part you need for your project, then we will package and coordinate shipping to your location, ANYWHERE in Alaska.
Our goal is to be your problem solving partner. Our welding and fabrication facility is on site with a wide range of capabilities.
Custom orders are always welcome and fulfilled in a timely manner.
Our automatic fence estimating system, gives you the ability to give us a sketch of your project and we turn it into a complete packaged order, giving you piece of mind and confidence that you are going to do YOUR fence project right!
Material Sales Contact
If you would like to get in contact with our lead material salesman, click the link below or call: (907) 522-1155 x 101