Fencing
Acme Fence Co provides statewide sales and installation for all types of fencing, including galvanized chainlink, vinyl coated chainlink, ornamental iron, gates and hardware, and automatic gate operator systems.
Installation
Acme Fence Co specializes in commercial and highway fencing.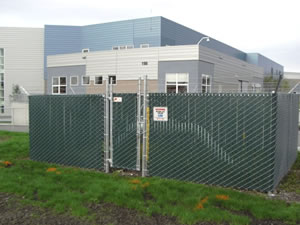 With over 30 years experience our crews have the knowledge and expertise in installing high security fencing (prisons, military institutions, airports), medium security (commercial buildings and storage yards), and various safety and boundary fences (schools, electrical).
Material Sales
Acme Fence Co carries the largest inventory of fence materials in the state. Our highly professional staff are capable of determining materials needed, provide shop drawings and installation advice.
** Only Commercial **
Guardrails
Guardrail Division
Highway Guardrail Sales and Installation was established in 1978. Acme Fence Co. has grown into one of Alaska's largest guardrail installers and material suppliers.
Guardrail Installation
Acme Fence maintains a fleet of specialized equipment to install wood or steel guardrail posts.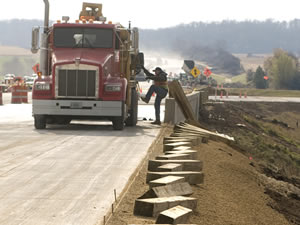 Our highly experieced crews install guardrail throughout Alaska. Since 1978 Acme Fence has gained the knowledge and expertise to perform service to our highway contractors, second to none.
Guardrail Material Sales
Acme Fence carries the larges inventory of guardrail materials and supplies in the state. All supplies meet or exceed ADOT standard specifications.
Bridgerail Transitions
Acme Fence Co has extensive experience installing bridgerail transitions and safety railings throughout Alaska.
We have worked on projects such as replacing bridgerail along the Parks Hwy from Talkeetna through Denali national Park all the way to Fairbanks, and each was completed on time within budget and without a single safety incident.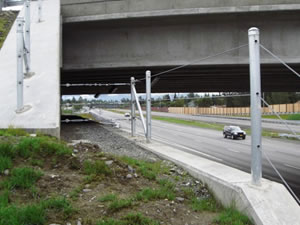 Sound Barriers
Acme Fence is one of the largest and most successful specialty fence and guardrail installers in the State of Alaska. The company understands the importance of delivering on time, within budget and hassle free.
With over 30 years experience, the company has installed sound barriers along the Seward Hwy, Parks Hwy, Glenn, Richardson only to name a few.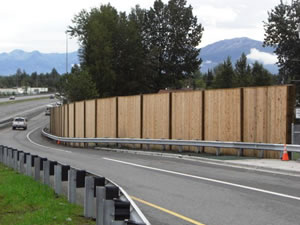 Crash Cushions
Providing temporary or permanent installations Acme Fence has the knowledge and experience to complete all FHWA and ADOT crash cushion systems.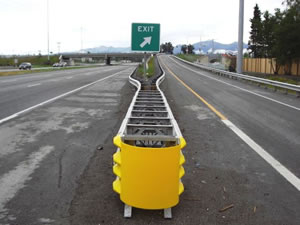 Vehicle Barriers
Vehicle barriers of all types and styles. Acme Fence Co can provide the materials, design, and or installations. A few options include:
Steel ballards or bumper posts (perm or removable)
Wood Ballards (perm or removable)
Steel Staples
Gates (Stationary or Breakaway)